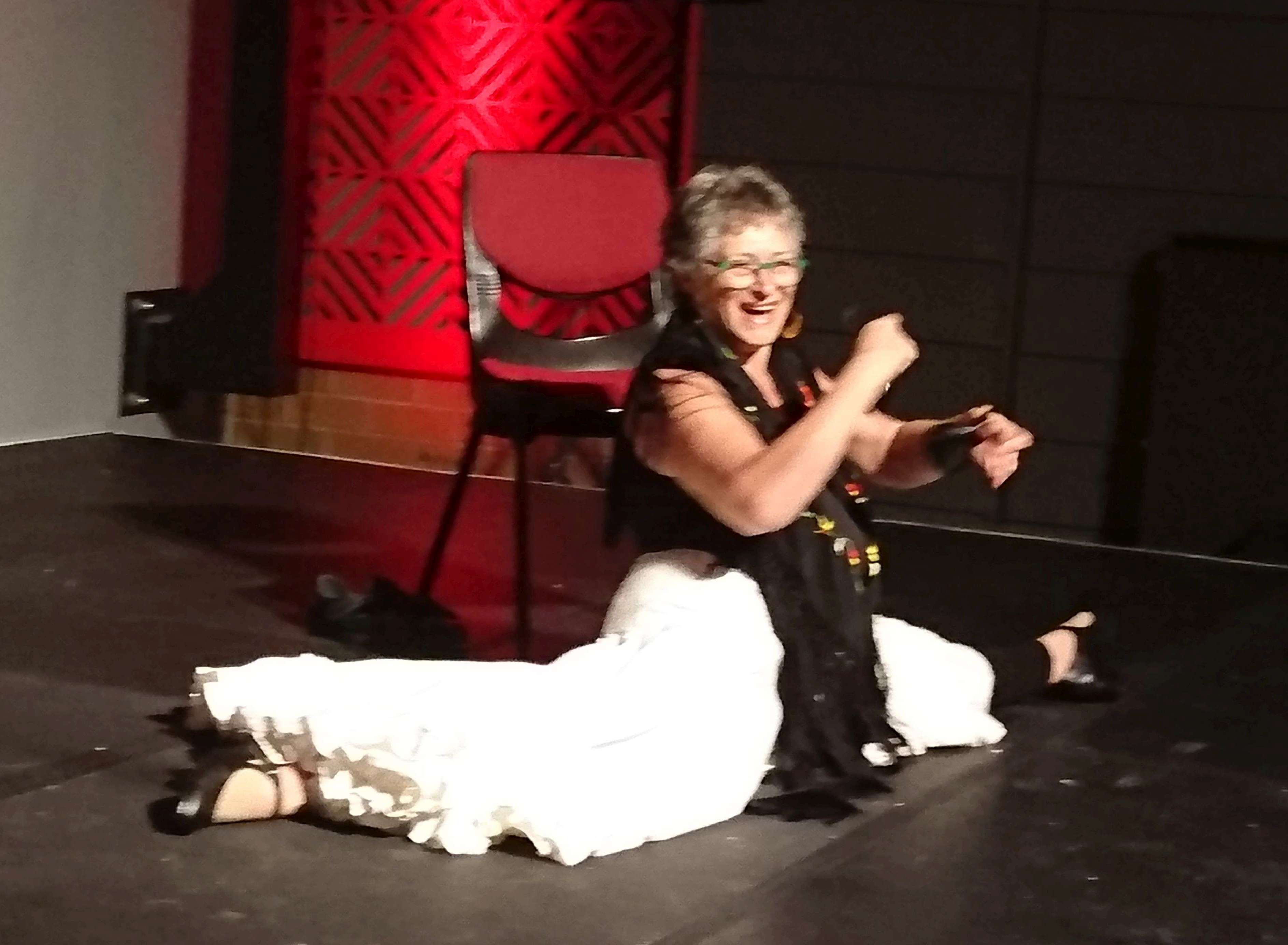 Click image to enlarge
Dates & Times:
August Thursday 17, Saturday 19, Sunday 20 at 1 pm. Friday 18 at 7 pm.
Come to the opening – you may want to come again!
Venue:
Wollongong Yoga Centre, where the temperature will be 34℃. Come out of the cold and get your Bod Hot!
18 Kenny Street, Wollongong.
All tickets $20 available here
Performance/demonstration in the Anywhere Theatre Festival, Wollongong:
Hot Bod 65. Performer: Aviva Sheb'a
Taking place in a warm studio, Hot Bod 65 dismisses stereotypes of what is a "hot body". It celebrates the body in its frailty as well as in its strength.
As a child, Aviva Sheb'a suffered life-threatening asthma. She was very small and thin. "I was dreadfully embarrassed at not being able to breathe. I hated being a skinny runt", she says. "One day I decided to become big, strong and healthy." Already body image was an issue for her. Later, as her body matured, she began to think she'd become fat overnight.
Ballet lessons taught her how to control her breath. She began to feel the power of beautiful movement. Her asthma improved. By age twelve, Aviva knew she would be a professional dancer. She went to full-time dance school from age fourteen, studying various forms of dance and voice. Spanish Flamenco was her greatest passion. Graduating as a dancer and dance teacher at sixteen, Aviva hung up her pointe shoes and became a professional Flamenco dancer.
Aviva's life has been very much about feeling good. She says, "Regardless of your shape, age or what condition your body is in, everyone wants to feel good." She developed her own technique, Vocal Dance, combining breathing, voice and movement. From the late 60s, Aviva performed and taught people of all ages, abilities and walks of life, in many countries. "Vocal Dance enables people to feel and express the power and beauty within them. People feel their bodies are indeed Hot!"
Aviva didn't always think she had a Hot Bod. In her twenties, weighing 52 kilos, Aviva thought she was fat. "Oh, what a waste!" she laughs, looking back at old photos. Now at age sixty-five, she says, "Not despite, but because of ageing and ailments, I appreciate and love my body more than ever!" She radiates the inner beauty and ecstasy she feels in performing Vocal Dance. "Whatever anybody else might think about bodies, we can love our own and declare we are Hot Bods." Aviva Sheb'a is Hot Bod 65!
After the formal part of the show, Aviva will invite participation from members of the audience who wish to experience Vocal Dance for themselves.
Show Duration: 90 Minutes, including audience participation.
Some chairs are available for people unable to sit on the floor. BYO yoga mat, cushion or portable seat if desired.
Allergy awareness: No scents please.
Rating: G
Footage of Aviva's one-woman show
© Aviva Sheb'a July 2017